National Building Research Organization NBRO issued landslides alert for several districts due to prevailing rainy condition.
NBRO issued landslides alert for Colombo district Seethawaka and Padukka – Galle district Elpitiya, Neluwa – Gampaha district Divulapitiya Mirigama, Gampaha and Attanagalla – Kalutara district Horana and Walallawita , Agalawatta, Mathugama, Palindanuwara, Ingiriya and Bulathsinhala – Kandy district Udunuwara, Thumpane and Yatinuwara Pasbage Korale – Kegalle district Yatiyanthota, Dehiowita, Bulathkohupitiya, Deraniyagala, Kegalle, Warakapola, Galigamuwa, Ruwanwella, Aranayaka, Mawanella and Rambukkana – Matale district Pallepola, Abanganga Korale and Yatawatta – Matara district Kotapola and Pitabeddara – Nuwara Eliya district Kotmale Ambagamuwa – Ratnapura district Kuruwita and Imbulpe Elapatha, Ratnapura and Nivithigala Eheliyagoda, Ayagama, Kiriella and Kalawana.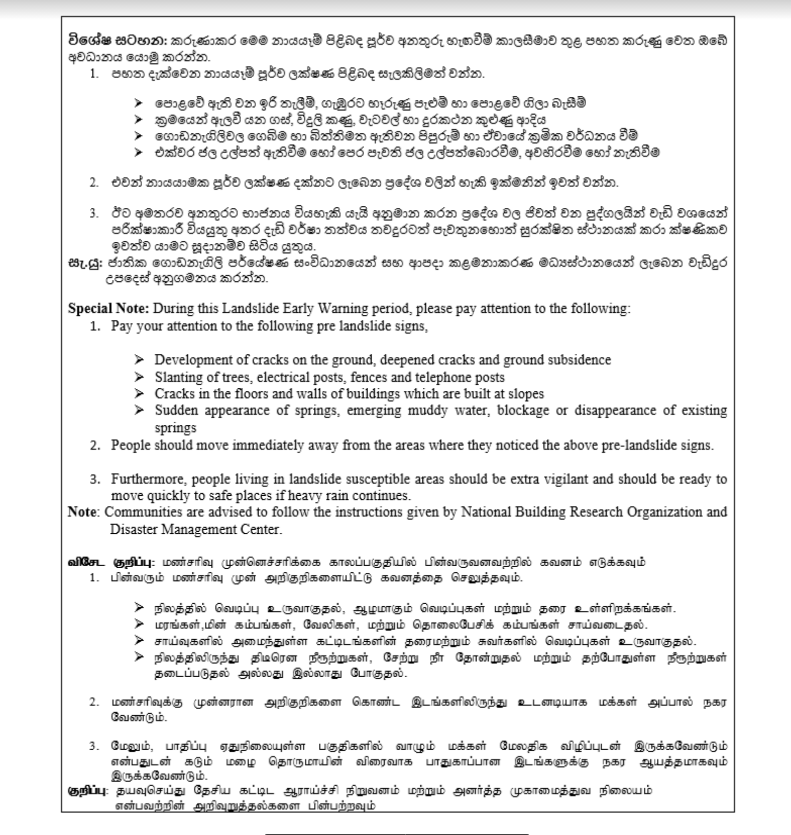 The Meteorological Department has forecast heavy rains in the southwestern parts of the island during this month due to the turbulent nature of the Bay of Bengal. Accordingly, landslides and related disasters are likely to occur in Badulla, Nuwara Eliya, Kandy, Kegalle, Ratnapura, Kalutara, Galle and Matara districts as well as in the Kurunegala district close to the Kegalle and Kandy district boundaries. In addition, mainly cutting failures and retaining wall failures are possible in some part of Colombo and Gampaha district. 
One significant telltale sign of potential failure is the presence of cracks in the ground. These can be sudden opening and/or development of new cracks (Tension cracks) or unusual bulges on ground, streets/roads and pavements/sidewalks. Therefore, especially people living in landslide prone areas should be very careful during rainy periods if any signs of cracks in the ground, deep cracks and subsidence in the ground occurred. The nature and signs of instability can often vary depending on the type and scale of the failure.
However, ground movement can be recognized by other features which may not be immediately associated with slope instability. They include, Leaning telephone poles, trees, retaining walls or fences, broken water lines and other underground utilities, offset fence lines, tilting or cracking of concrete floors/walls and foundations, soil moving away from foundations, tilting and/or moving of ancillary structures such as decks and patios (outdoor areas) relative to the main house, springs, seeps, or saturated ground in areas that have not typically been wet before, sudden decrease in creek (small stream) water levels though rain is still falling or just recently stopped, sudden increase or drops of ground water table, sunken or down-dropped road beds, sticking doors and windows, and visible open spaces indicating jambs and frames out of plumb.
People living in landslide prone areas are advised to maintain existing drainage systems and remove existing drainage barriers as proper drainage is an important factor for landslide safety. Please read the real time landslide early warning message issued by National Building Research Organisation (NBRO) on landslide risk forecasting.