The four nations international tournament "Prime Minister Mahinda Rajapaksa Trophy" starts from today in Colombo. Sri Lanka football team manage to secure a draw against Maldives. Today's match was a draw with a score of 4-4.
Man of the Match award won the Waseem Razeek who changed the game entirely in the second half by adding 4 goals to his name and scoring his first international hat-trick.
Maldives President Ibrahim Mohamed Solih attended the inaugural session of the Tournament which took place in Colombo. President Solih was the ceremony's Chief Guest for the inaugural session held today. First Lady Fazna Ahmed, Minister for Youth, Sports and Community Empowerment Ahmed Mahloof and The Minister of Youth and Sports, Minister of Development, Co-ordination and Monitoring and State Minister of Digital Technology and Enterprise Development of Sri Lanka, Namal Rajapaksa also attended the inaugural session.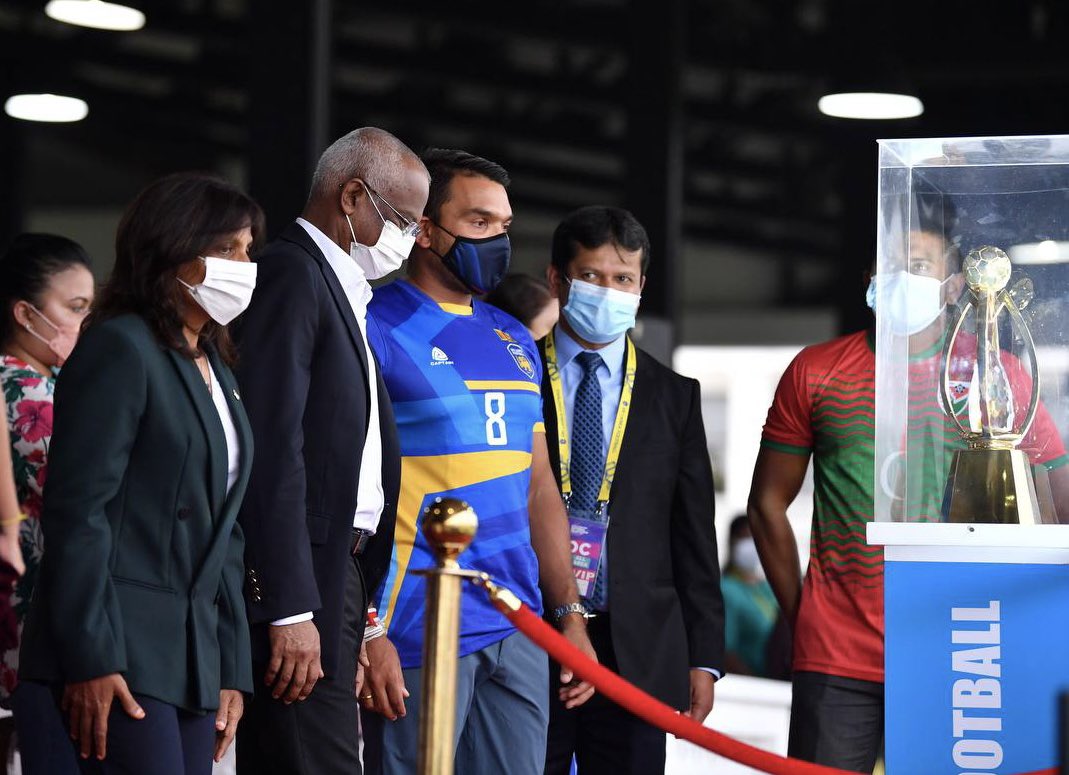 The 'Mahinda Rajapaksa Trophy 2021' is a friendly international association football tournament organized by Football Sri Lanka (FSL) in which Maldives, Sri Lanka, Bangladesh, and Seychelles compete.

The Football Federation of Sri Lanka FFSL, in conjunction with the Ministry of Youth and Sports, has organized a mega international football event starting on the 9th-19th of November, 2021, at the Race Course Grounds in Colombo, Sri Lanka. This tournament is titled as the "Prime Minister Mahinda Rajapaksa Trophy" to emphasize the importance of the sport, and express the state's support by uplifting the game of football in Sri Lanka and in the South Asian region.