For the 4th consecutive day, Sri Lanka records over 600 COVID cases. Today Sri Lanka records 679 coronavirus cases. Today caseload is the highest daily cases after 25 days. Test positivity rate and active COVID patients count also increasing. Currently there are 16,584 active COVID patients.
According to official stats Sri Lanka's weekly average of PCR tests count show about 5,600 per day. Test positivity rate has again slightly increased from 9% to 10.6%. It was around 35% during early September.
Sri Lanka records 19 COVID related deaths on November 8th. According to the Director General of Health Services, total number of fatalities in Sri Lanka increased to 13,856.
Sri Lanka has reported 545,935 COVID-19 cases out of which 515,495 patients have recovered.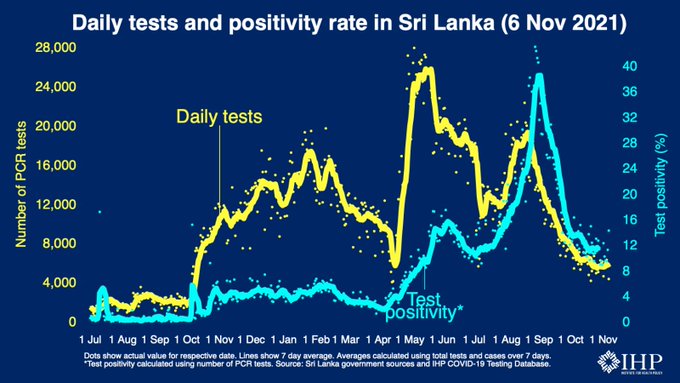 Meanwhile, Association of Medical Specialists AMS raises concern over the irresponsible behavior of some groups and warns such a behavior will create another wave of Covid19 in Sri Lanka.
Association of Medical Specialists AMS requests all citizens to join hands to control Covid19 spread with responsible behavior during this critical period. (LankaXpress.com)