Total arrivals for first 11 months ending in November reach 628,017
Daily arrival average improves to 1,991
Tourist arrivals maintained above 12,000 for five consecutive weeks
Russian Federation and India rank as top two source markets for Sri Lanka tourism
Germany replaces UK as third largest tourist traffic generator for November
Tourist arrivals to the country saw a significant increase in the month of November, with the number of international visitors entering the country growing by 42 percent from October.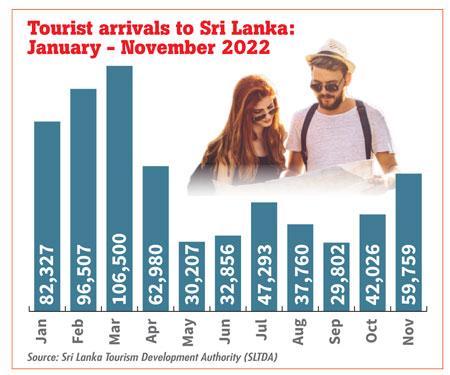 The provisional data released by the Sri Lanka Tourism Development Authority showed that in November, Sri Lanka welcomed a total of 59,759 tourists. The numbers recorded for the 11th month show the island nation has lured a total of 628,017 tourists for the year 2022 so far. 

The daily arrival average for the month of November is 1,991, a significant improvement from the 1,355 daily arrival average recorded in October and 993 in September.

Similarly, the weekly analysis shows that the month of November has been successful in maintaining tourist arrivals above 12,000 for five consecutive weeks, starting October week four. While the first three weeks of November tourist arrivals were 12,431, 13,051 and 14,298, the final week saw arrivals jumping
by over 5,000.

For the November 22-30 period, tourist arrivals totalled 19,979. The last time weekly tourist arrivals crossed the 19,000 mark was in the first week of April, when tensions from the economic and political crisis were building up in the island nation.

The growth in tourist arrivals witnessed in November is due to the increase in the number of international airlines flying to Colombo. Further, for the first time since the outbreak of the Covid-19 pandemic, Sri Lanka welcomed nearly 4,000 tourists by sea in November.

On November 18, luxury cruise ship Viking Mars arrived at the Colombo Port, bringing in 900 tourists. Earlier this week, super luxury cruise ship Mein Schiff 5 arrived in Sri Lanka with about
3,000 passengers.
Maintaining the streak as the largest tourist traffic generator for destination Sri Lanka is the Russian Federation, which accounted for 23 percent of the total arrivals for the month of November.

India ranks as the second largest source market, contributing to 17 percent of the arrivals. Germany replaces the UK as the third largest tourist traffic generator for Sri Lanka, accounting for 9 percent of the arrivals. The UK dropped to the fourth position while ranking fifth is Australia.
Source – Daily Mirror