According to an economist, Sri Lanka's inflation is the 2nd highest in the world. An economics Guru at the Johns Hopkins University in USA, Steve Hanke has estimated that Sri Lanka's true inflation in April is 132%. Hanke annual inflation rates are implied using PPP from free and black market exchange rate data. According to the inflation dashboard, Zimbabwe ranked in top of the chart. Venezuela;s inflation is dropping and listed at 5th place. According to Central Bank stats, Sri Lanka's inflation in April is 29.8%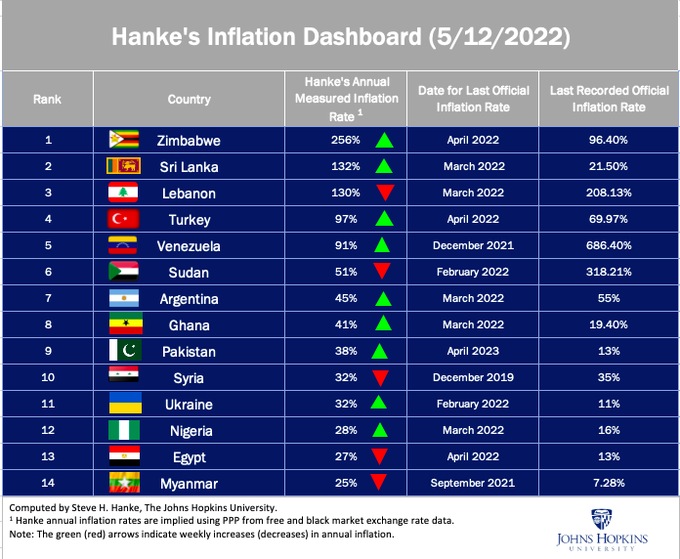 According to Colombo Consumer Price Index (CCPI), Sri Lanka's inflation increased to 29.8% in April 2022 from 18.7% in March 2022. Food inflation (Y-o-Y) increased to 46.6% in April 2022 from 30.2% in March 2022.
Prices of items in the Non-Food category recorded increases mainly due to price increases observed in the Transport (Petrol and Diesel), Education (Tuition fees), Housing, Water, Electricity, Gas and Other Fuel (Housing rent, Maintenance/Reconstruction) and Restaurant and Hotels sub-categories. Further, within the Food category, increases were observed in prices of milk powder, rice, bread, dhal, sugar and dried fish during the month. (LankaXpress.com.